hahahaha.
Lindsay is a blessed soul for trusting me because when I hand out any type of advice it usually comes back to bite me in the @$$. Seriously.

I don't claim to be an expert in anything, but I have mastered a few things through the good ole' trial and error routine.
Lately, it seems as though there has been post after post on how to be successful with an online business. I love having an online store, but more than anything I love the one-on-one personal contact I have with customers by having a local/farmers market booth.
For the last few years I have spent Tuesdays, Wednesdays, and Saturdays selling my products at our local farmers markets. It's been a great way for me to build my business, network with local retailers, and meet my customers.
Today I want to just give a few simple and important steps that have helped me be successful--and if you decide to (or do) sell your good at the farmers market hopefully these rules can help you too!
1. Create a fun and inviting booth.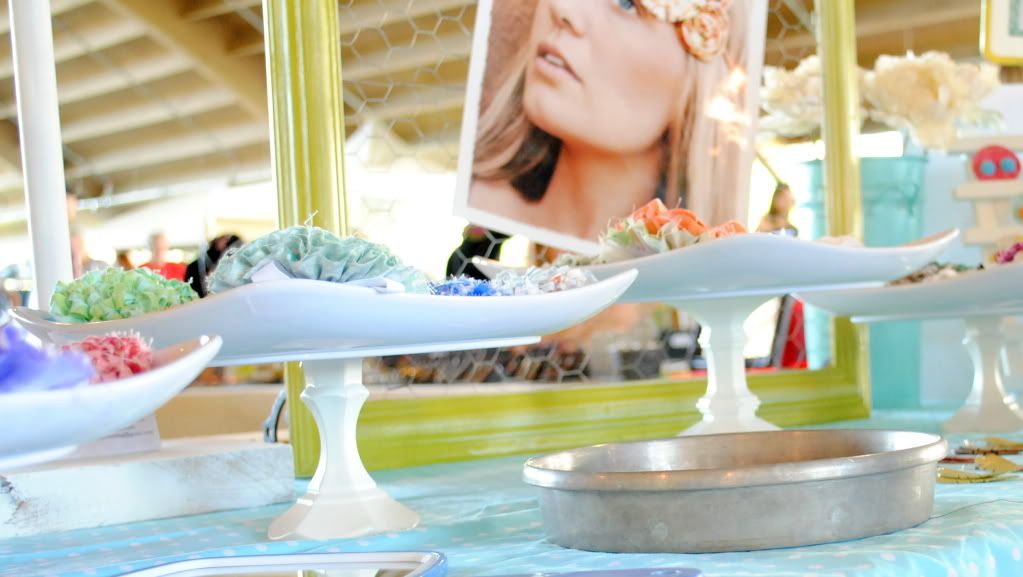 Whether I am setting up for a farmers market or a three day show I try to make my booth cater to the crowd that will be at the event. At the farmers market I try to make my booth line the aisle so that customers can quickly glance over my items while they are walking past; if they are interested they stop, if not they can keep on walking by without any hassle.
I also try to make my set up eye catching. Since my business is "Spunky Junky" I have incorporated different types of junk into my display. i.e. plates, typewriters, pie tins, old picture frames, suitcases, and books.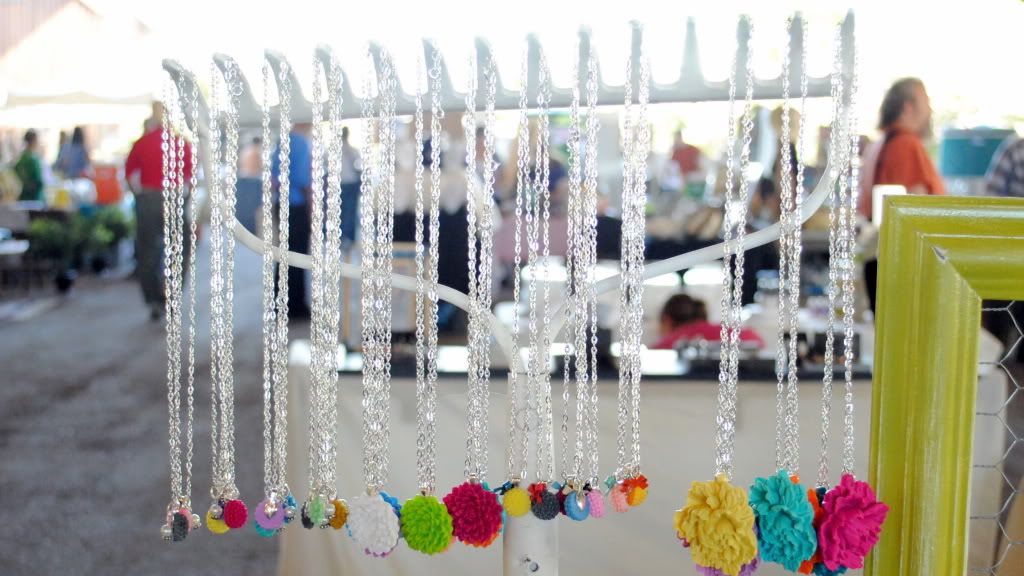 I even converted a couple old rakes into jewelry stands that serve as a great way to showcase my necklaces.
2. Get to know your customers.
This may not be possible at a large show, but at the weekly markets I try to make a sincere effort to learn the names of my repeat customers.
I also try to remember one or two of the items they have purchased in the past as well as a few details about their lives that they have shared with me. I do this so when they stop by my booth again I can greet them by saying, "Hey Jen! How's the headband? How did your daughter's play go last week?"
I can't tell you how many people have been caught off guard and were pleasantly surprised when I took the iniative to learn their names and a few details about their lives.
3. Create visual appeal for your products.
The headband below has by far been my most popular item. This picture alone showcases what the headband looks like, and it makes potential customers stop and want to try it on.
By showcasing pictures of your products in use customers can visually see how it is used.
4. Capitalize on niche retailers.
While selling at the local markets is great for getting your name out in the public it can also be seasonal. Where I live the farmers markets run from May through September. That means that I have had to venture outside to find other means of promoting and selling my products during the rest of the year.
I have found that by selling my products to niche retailers in my area I have created additional venues where my customers can purchase my goods.
5. Mass Production is good.
Even at a local market making multiples of the same item is good business; especially if the item is popular.
While one of a kind pieces are great, they are hard to market. By having multiples of the same piece I have found that I can list them in my etsy shop, sell them at the market, and I can also take pictures of them as a marketing tool without the worry of having to tell a customer the item they wanted is no longer available because I only made one of that particular item.
6. Change is good.
My merchandise has evolved over time. When I first started making headbands they had a rough-edged look, over time I have found that by stitching the edge they seem to last longer. By finding new ways to improve my goods I am creating better products for my customers.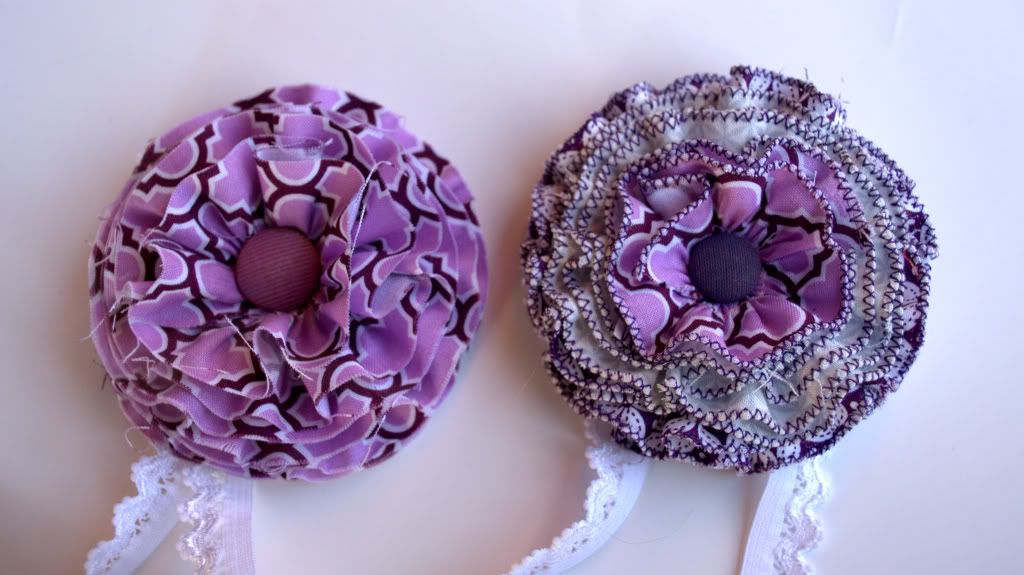 7. Consistant Branding.
I have worked really hard at creating consistancy within my products. I now have bags, return labels, business cards, stickers, stamps and product cards that all have the same messaging. Furthermore, I have created consistancy between my
business
and
blog
.
By creating consistant messaging I have developed a more professional look that can easily be recognized.
***inside trick. I have found ways to cut costs on my branding. I print out clear labels with my brandname on it and then I attach them to cellaphane bags. I also had a custom stamp made so I can make my own cards for my earrings, rings, and headbands too.
8. Create flexible payment options.
At the local markets that many people only come with a certain amount of cash. By providing a credit card payment option my customers are not limited on the amount they can buy.
Moreover, to run credit card transactions I use the
Square
, which is a device that can be attached to my phone and can easily run cards. Customers also have the security of receiving a receipt through text or email which helps to legitimize the transaction.
9. Be consistant.
If you are thinking about doing the farmers/local markets by consistant. Try to go every week and if you are going to miss a week try to have someone man your booth for you.
I have found that by being consistant I have had better luck with customers returning again and again because they know they can rely on me always being there.
Also, in my community the local markets offer a substantial discount if you purchase a permanant booth for season.
10. Keep a detail account of your inventory.
I have tried to keep a very detailed account of what I have in stock. This has helped me know exaclty what I need to purchase and has made it easier at knowing what inventory is turning over. I also keep a detailed itemized account of my inventory that has sold. By knowing what I have sold I know what items are popular, what items are not selling, and what items I need to stop making.

Hope these simple steps helped--if they don't, blame Hunk or Punk....that's what I do.

*wink wink*

see ya tomorrow darlings and dudes!